Posted by Bike Attack on 25th Jul 2018
Los Angeles Magazine July 2018
Best of LA:
The Best Places to Shop in L.A. in 2018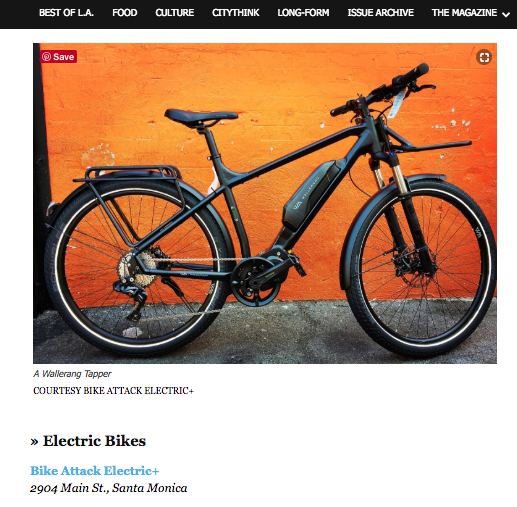 Electric Bikes
Bike Attack Electric+ 2904 Main St., Santa Monica

If you want a power-assisted pedaler, you should go to a shop devoted to them. While El Segundo's Electric Bikes LA won't disappoint, Bike Attack Electric+ in Santa Monica reigns supreme. Hundreds of battery- powered models fill the space, including mountain bikes (Cannondale, Scott, Bosch), commuter bikes (Corratec, Bianchi), beach cruisers (Elux, Blix, M1 Sporttechnik), and cargo bikes. Just as important: The patient staff asks lots of questions and presents loads of options to make sure you find the right ride.
Bike Attack Electric, 2904 Main Street, Santa Monica, CA 90405
ph: 424-744-8148